Charlston Art Deco Style Satin Chrome 48mm Euro Door Knob Set
Charlston satin chrome door knob on an Art Deco style euro cylinder backplate. Used on doors that have a mortice door lock operated by a euro profile cylinder. The backplate measures 203x66mm and this set is supplied complete with connecting spindle and fixing screws. The distance between the centre of the spindle to the centre of the circular part of the cylinder cut out measures 48mm. (PLEASE NOTE: EURO PROFILE PRODUCTS ARE NOT STANDARD KEYHOLES - THE ENLARGED CUT OUT ACCOMMODATES A EURO CYLINDER).
Euro profile handles have an enlarged keyhole shape cut out of the back plate. This euro cut out in the back plate is used to house a key operated cylinder. The cylinder is used with a sash lock, which consists of a latch and a deadbolt and is mortised into the edge of the door. The lock also has the euro shape cut into it to allow the cylinder to pass through and come out on the opposite side of the door. These cylinders come in various lengths depending on the thickness of the door and various styles such as double key, key and turn, or single cylinder. The handles are fitted to either side of the door and are connected by a spindle located in the back of the knobs. When the knobs are rotated, the spindle also rotates and operates the latch allowing the door to open. When the key or thumb turn is operated, the deadbolt on the lock is thrown and the door is then locked. The handles are supplied complete with the spindle and fixing screws, but not with the lock or cylinder, which need to be purchased separately, and are normally specified to have a matching finish to the handles.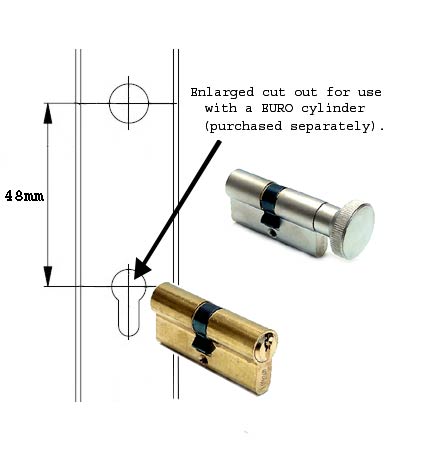 More Information
Price Unit
pair
Model
CHA1948SC
SKU
I460042
Dimensions
Overall Back Plate Dimensions 200x65mm
Overall Projection 64mm
Back Plate Thickness 11mm
Approximate dimensions subject to change by the manufacturer, please contact us if this information is critical.
Manufacturer
M.Marcus