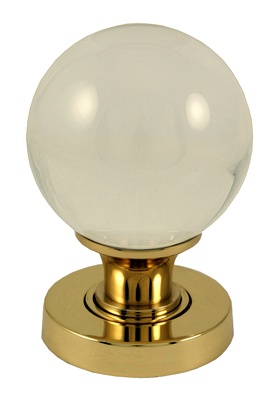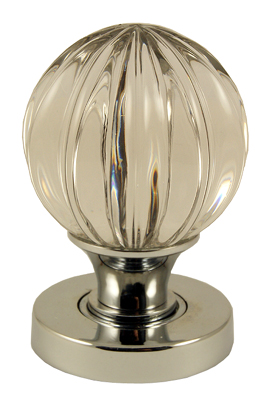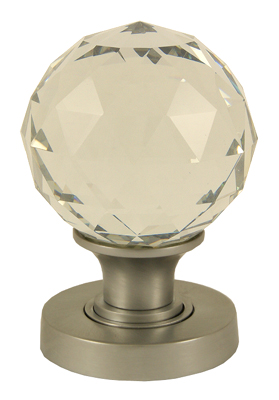 Click here to view our range of Glass Door Handles
Original glass door furniture dated back to the Victorian Age and the style was that of a plain round glass knob on a simple brass rose. Modern designs still include the original round glass knob, but also available are coloured and shaped knobs together with faceted (cut glass) designs. Many of the modern day designs are available on chrome, brass and even gold plated roses rather than just the brass rose used originally.

The glass style of door furniture was a feature of the emerging Middle Classes from 1900 onwards. Glass finger plates were introduced to compliment the glass knobs and were recognised as a symbol of civilisation and gentility at the time. Used today glass door furniture would certainly add a touch of class to any property!

Q. Are there different types of Glass door furniture?
A. Yes, there are many different styles and types available. Typically crystal glass in clear shapes and faceted shapes, together with tinted or coloured glass and occasionally you will find glass with small bubbles throughout. Crystal is a type of glass with a high lead oxide content, this glass has a very high brilliance and shows "cutting" to greatest effect. There are many techniques used to add colour and patterns to glass, most involve the introduction of metal oxides into the material. Whilst hand made glass nearly always has a few small bubbles, this feature can be used as a decorative technique. The effect is usually achieved by adding chemicals to the glass which react to produce random air bubbles during the melting process.

Q. Does Glass furniture need any maintenance?
A. This type of furniture needs very little maintenance. Glass is very durable and could only really be damaged by abrasion or impact in normal domestic use. If the furniture has a brass or chrome rose then follow the procedures for this type of finish as described in the Brass or Chrome Door Funiture FAQ's. Remember that any brass element of the furniture is likely to be lacquered and should be treated as described in the Brass Door furniture FAQ.

Q. How should I care for my Glass furniture?
A. Glass furniture should be regularly dusted with a soft cloth. Occasionally it should be cleaned using a mild non-acid soap and warm water, a soft dusting cloth can then be used to enhance the surface. Do not use window cleaning sprays, abrasive pads, scouring compounds, acetone, petrol, benzene, carbon tetrachloride, lacquer thinner or any solvents to clean this type of furniture as whilst some of these may not be damaging to the glass itself, there is a chance of damaging the rose or associated parts of the handle.
---
DISCLAIMER Door Furniture Direct makes every effort to ensure that the information contained in our FAQs is correct and accurate. We can however accept no responsibility for any errors or omissions or their subsequent effects. Indeed if you find any please let us know, we appreciate any advice or comments to improve these pages.