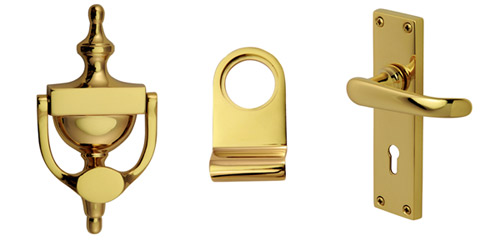 Click here to view our range of PVD Door Funiture
PVD stands for Physical Vapour Deposition. This is a process where the surface of metals are coated with molecules of hardwearing metals. The process involves metallic vapours being created in a vacuum. With the introduction of reactive gases into the vacuum chamber, a thin film of metallic compounds is created. This highly adherent thin film is then deposited onto the surface of the base metal creating a non-tarnishable finish.

Q. What are the advantages of PVD treated door furniture?
A. PVD treated door furniture can be used in areas and situations where normal lacquered brass handles would eventually tarnish. They have an extremely high resistance to salt spray which makes them ideal for use in coastal areas where non-treated brass would certainly begin to tarnish fairly quickly. PVD products have unlimited resistance to muriatic acids (acids created from brine) and anti-calcareous products (de-scaler). It should be remembered that the PVD process gives protection to the finish and not the mechanism which will usually be no different to a standard door handle. If PVD products are to be fitted in a very harsh environment then it is important to ensure that the mechanism is also well greased.

Q. Are PVD door furniture products known by any other names?
A. Companies which produce PVD door furniture often have their own particular brand name such as "Everbrite", "Titan Protection" or "Stainless Brass". Some companies will simply refer to it as "PVD Brass" but they are all the same type of product.

Q. How long can I expect my PVD treated door furniture to last?
A. Different manufacturers of PVD products offer different guarantees. Everbrite™ and most others offer a 10 year guarantee on the finish. These guarantees prove that any door furniture that has been PVD treated are of extremely high quality and can be expected to last a long time.

Q. Can I mix and match PVD treated brass door furniture with normal lacquered brass around the home?
A. PVD brass is slightly richer in colour to lacquered brass and, because there is no lacquer on the surface of this finish, it has a brighter polished shine. Whilst the two products are very similar and certainly don't look out of place next to each other, they would not be a perfect match on the same side of a door. It should also be considered that the finish on lacquered brass may deteriorate with time, whereas the PVD brass would not, and as a result the slight difference in appearance could become exaggerated. If however the products were used on different doors in the same house it would be difficult to spot the difference. Many people therefore use PVD brass on the external side of their front and back doors (were corrosion is most likely to occur) and standard lacquered brass internally. It could also be considered for bathroom doors and is ideal for marine applications where we recommend that the handle's mechanism is well greased before fitting. The images below show Everbite™ products on the left and polished brass on the right.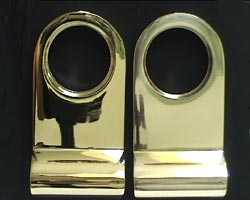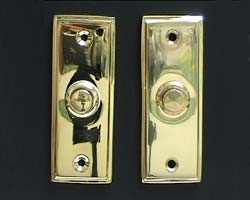 Q. How should I maintain my PVD brass door furniture?
A. PVD treated door furniture is typically simple to maintenance. Everbrite™ recommend cleaning their products approximately every two months with a moist sponge and drying with a soft cloth. As the product is bare metal (not lacquered) and also very shiny, it can have more of a tendency to show fingerprints. Not really a problem, its just the same as handling any high shine product (eg like chrome). If desired, a good wax polish, like you would use on car bodywork, can dramatically reduces this effect and also enhance the rich shine.
---
DISCLAIMER Door Furniture Direct makes every effort to ensure that the information contained in our FAQs is correct and accurate. We can however accept no responsibility for any errors or omissions or their subsequent effects. Indeed if you find any please let us know, we appreciate any advice or comments to improve these pages.